We were represented at the 12. Lateinamerikafestival in Hamburg, which took place at the Museum Of Ethnology 11th and 12th of October. Elisabeth, Jonas, Marita and Niklas showed some videos and pictures, while answering question about the project, the motivation, the location and the kids to interested visitors from all over the place. We made important contacts and hope that we could spark interest in our work. Thanks to the organizers, see you next year
Photoworks by the kids
Robinson presenting this years results
Visitors
After 1,5 month of work, joy and a lot of new experiences, the bambúProjekt closed with a presentation of the works created this year by our group of 20 kids (thanks to our Talleristas Belén & Mariuxi everything was finished to the date). We installed several photographs and paintings from last years workshops in the Centro Cultural El Aguijón (thanks to Galo for colaborating and sponsoring the place and the equipment, gracias loco!) and had Jonas introducing the crew and the people involved. As a surprise to the kids, a representative from STEFAN BRANDT came on stage and donated 30 shirts with the green hummingbird-logo printed on the front. The kids immediatly put them over
The workshop leaders introduced the upcoming presentation of works. Jimmy (11) and Robinson "Chicho" (10) also had something to say and surprised the audience with their cool and fearless manner. Then we started projecting the videowork from one group and the animation piece from the other group of kids, which partizipated the last 60 days.
Thanks to everybody who supported us and believed in the idea and purpose of our work!! Seguimos Adelante!! In a few month there will be a major exhibition with material from three years of bambúProjekt in Ecuador!! Soon more on this, here on this website and on facebook (facebook(at)bambuprojekt.org)…
Free Entrance, incl. Canelazo
Take a look at "Ecuador En Vivo" from Teleamazonas…feel free to comment it on youtube
The Workshops are over and had some special events on the last days of the bambúProjekt experience 2009.
Saturday the kids arrived in company of a camera crew from Teleamazonas who came to report for their daily program "Ecuador En Vivo". Belén, Jonas and Niklas gave interviews on the Workshops, the finca, the kids, the project and the foundation and the upcoming exhibition. The kids themselve also had a lot to say and got interviewed while enjoying a bath in the river, which is also part of the finca and its surroundings.

In the evening – all Workshops were being finished – the group of 18 kids played and jumped around the bonfire until the got tired and fell asleep in a second.
The next day after breakfast Señor Silvio Montero – the designated driver
– came a few hours earlier than usual and we made a little field trip to Nanegal to visit the Piragua Waterfalls, where everybody took a bath (and if from germany got sunburned).

Hungry from spending the day swimming and sunbathing we drove back to the finca and had a nice BBQ (thanks to Silvia, Monica, Antonio and Carmen).
That was it…well on our way home to Quito we stopped at the Inti Ñan Museum (Mitad del Mundo), where we received a special tour, after being welcomed by the Museums director Fabián Vera. The children learned a bunch about their region and culture and why Ecuador is the middle of the world and why it is possible to balance an egg on top of a nail!
And then….that was it! bambúProjekt 2009 Workshops are done/ finished/ over…
BUT, now everybody is concentrading on the upcoming exhibition and the presentation of the videoworks @ El Aguijón en la Mariscal en Quito.
Thanks to everybody who made this possible, especially to Julian Erhardt, who is not just helping monetarily, but also in person at the finca this year. And everybody who is supporting the project from Ecuador, Germany and everwhere else…Gracias!
Ok, the six weeks are almost over… the script to the animated story is written and all backgrounds finished. All "actors"/ "acting parts" are constructed and are ready to be filmed. Today (Sunday) the kids will record surrounding sounds and voices for their little movie. Saturday night everybody told some campfire horror stories in their tents…let's say they all slept tight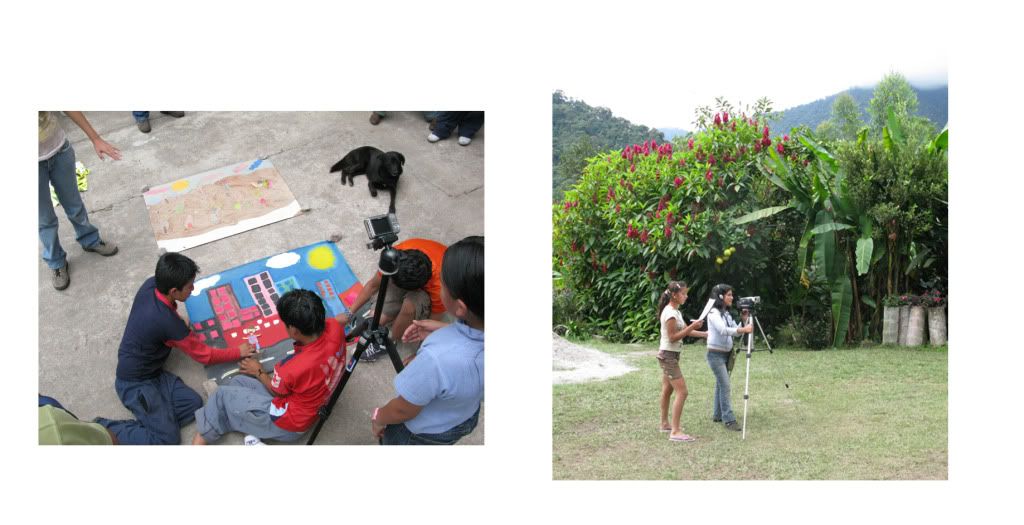 Due to the omnipresent (swine) flu, our team is reduced to 15 participants ? but it didn't keep us from having a great time. The Stop Motion Picture (SMP) group produced short animated clips – made of single images/ photographs mounted together as a "photo-film". After a short introduction in how to use a digital camera (for those who didn't participate 2008) small groups organized and realized their own little films all by themselves – great work ? ! Meanwhile the video group (separated by nature and urbanity) interviewed each other, their "profe" Edison and Eduardo Torres the owner of the finca. The kids asked question about reforestation and its meaning to the forest, the animals living in it and at least to us humans who live surrounded by trees and the ones in the cities. The material will be part of the video, which the kids will present at the end of this year's workshops… wir sind gespannt!
So, three weekends are done by now and there will be three more to go! The kids got to know this years artists and are already into the different works, doing great with there first video experiences.
Mariuxi showed her group of kids, what is important while handling a videocamera and what kind of shots can be helpful for creating an interesting szenario. The camera kids are interviewing each other and people around them concerning different topics like life in the city, reforestation and how to evoid littering and why it is important to not destroy what nature is offering.
The other group, supervised by Belén, is preparing their first Stop Motion Picture. They already drew different backgrounds and elements for their little movie. Upcoming weekend they will take the first pictures….
Mariuxi arrived this week in Quito and left the few summerly days in Hamburg for the alltime summer in Ecuador…
Jonas – this years supervisor of bambúProjekt – already organizes in situ and brings together what has to be brought together in order to implement such a big project.
Belén already met this years team and joined forces with Jonas, Marita, Mariuxi and Vanessa. Niklas will arrive shortly. In a few days the first Workshop-Weekend will be over and we are all very excited.
Mucha Suerte bambúProjekt!